Getränke- und Snackautomaten in der KIT-Bibliothek Süd bis 09.01.2023 außer Betrieb : KORREKTUR
Entgegen der anders lautenden Meldung vom 22.12.2022 (s.u.) bleiben die Getränke- und Snackautomaten in der KIT-Bibliothek Süd vorläufig weiterhin in Betrieb. Diese Information wurden der KIT-Bibliothek heute vom Studierendenwerk mitgeteilt.
Contrary to the announcement of 22.12.2022 (see below), thevending machines in the KIT Library South will remain in operation for the time being. This information was communicated to the KIT Library today by the Studierendenwerk.
---
Das Studierendenwerk hat die KIT-Bibliothek kurzfristig darüber informiert, dass voraussichtlich in der Zeit vom 22.12.2022 (nachmittags) – 08.01.2023 alle Getränke- und Snackautomaten in der Bibliothek abgeschaltet werden.
Bei den Kaltgetränkeautomaten wird das Sortiment an die Wünsche der Studierenden angepasst. Die Kaffeeautomaten werden durch modernere energiesparendere Geräte ersetzt.
Bitte bringen Sie deshalb für den Bibliotheksbesuch eigene Getränke in verschließbaren To-Go-Bechern oder Flaschen mit.
Wir bitten um Ihr Verständnis!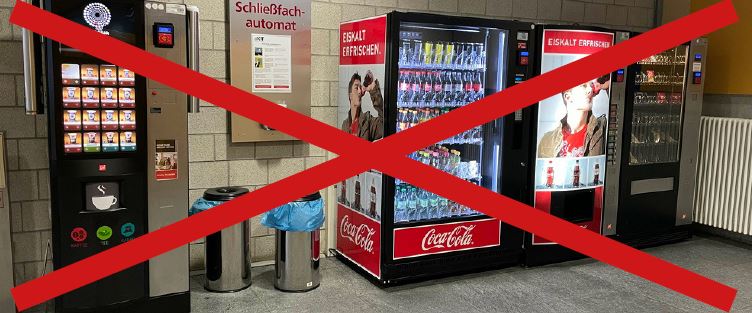 No vending machines in the KIT Library South until January 9th, 2023
The Studierendenwerk will switch off all vending machines in the library from December 22nd, 2022 (afternoon) to January 8th, 2023.
The range of the vending machines for cold drinks is adapted to the needs of the students. The vending machines for coffee will be replaced by more modern, energy-saving devices.
Therefore, please bring your own drinks in lockable to-go cups or bottles with you when you visit the library.
We ask for your understanding!